The Need For Digital Resilience
Digital assets are now essential to every organization. Business depends on networks. As these networks continue to expand, interconnect and become more complex, there are increasing opportunities for attack or failure. And, even with the billions we've invested in hundreds of network security products – breaches and failures continue to happen. Increasingly, business leaders are realizing that the best approach is to make their networks resilient. This is where RedSeal comes in.
Resilience means that a system has the ability to spring back into shape or recover quickly from difficulties. A resilient network has to repel cyberattacks, contain breaches, and be quickly repaired. This is where RedSeal comes in.
RedSeal's cybersecurity analytics platform helps repel attacks by modeling your actual network and determining your security priorities. It helps contain breaches by pinpointing and recommending necessary actions, and speeds repair by providing all the information you need to mitigate exposure.  RedSeal allows you to actively manage your digital resilience capabilities!
RedSeal gives you the power to:
Understand your network.
RedSeal analyzes your network and automatically builds a model, so you can understand and continuously monitor your whole network.
Measure resilience.
With your RedSeal Digital Resilience Score, you can measure, benchmark, and set targets to actively manage the digital resilience of your network and security infrastructure.
Verify compliance.
By revealing configuration errors and discovering unintended access paths, RedSeal helps you verify compliance with established operating standards, policies and regulations.
Accelerate response to security incidents and network vulnerabilities.
RedSeal provides actionable intelligence for rapid response by identifying exposed assets and prioritizing actions. Waste no time with guesswork.
Put RedSeal to work for you.
The RedSeal security analytics platform is available on a virtual or physical appliance. The physical appliance provides the fastest and most efficient way to get started. Pricing is based on the number of Layer 3 and Layer 2 devices in your network.
The RedSeal smartphone security application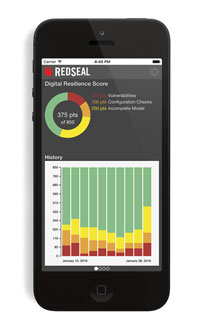 RedSeal's smartphone security app for Android or iPhone gives you a real-time, at-a-glance view of your network's resilience. The app lets you see your security status and progress, and lets you share your latest metrics with your security team, management and board members.
You can download the smartphone security app at no charge from the iOS App Store or Google Play.
Give it a try. We've included sample data so you can see how it works. Just use these credentials:
• username: demo
• password: demo
• hostname: demo
---